Metal Gauges
The gauges are hand stamped from attractive and durable type 304 Stainless Steel. The convenient keychain provided with each sheet metal gauge is a made from nickel plated steel. The sheet metal gauges and chains are manufactured and assembled in the USA. They are manufactured to measure 12 common gauges of sheet metal (26 GA. smallest to 7 GA. largest).
Uses
--Effective & Inexpensive-- Your sheet metal gauges are a handy tool that will be appreciated by anyone in the metal industry. They will give years of use, unlike many disposable premiums that go out of date, run out of ink or just go into a jar or drawer. Your customers and employees can use their sheet metal gauge in the shop or the field to prevent costly errors, and you will get name recognition every time they use it.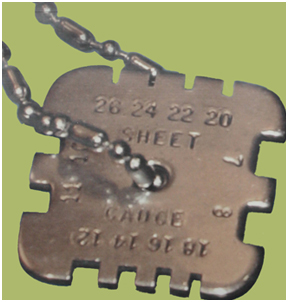 Trade Show Give Away
Salesman's Calling Card
Order premiums
Inquiry Premiums Incentives
Christmas Gifts
Metalworking students
Customers
Employees Promotional Mailers
Personalization
The sheet metal gauges can be personalized with such information (limited to 12 characters per line, 4 lines) as your:
Company name
Advertising slogan
Street address
City State
Zip code
Telephone number
Fax number
E-mail address
Web site address
Please fill out our convenient order blank or we will be happy to assist you in designing your message for your personalized sheet metal gauges.